Children of the Horn
Instrumental Ensemble
Children of the Horn is an instrumental ensemble that has created a unique sound by combining influences from soul jazz, rhythm and blues, and world music.  The band's line-up is comprised of seasoned, professional musicians from the Raleigh-Durham, North Carolina area.  With a front-line of horns backed by a rhythm section, Children of the Horn takes the listener on a kaleidoscopic journey through original compositions that range from super-syncopated funk and Latin to swaggering New Orleans Second Line to classic Motown-inspired grooves.
Audiences of all ages find the band to be highly entertaining.  Their tight arrangements and skillfully improvised solos have earned the band opportunities to share the stage with international stars such as Dirty Dozen Brass Band, P-Funk, and Dr. Lonnie Smith. Children of the Horn performs original compositions and arrangements developed by its members.
Following in the tradition of legendary horn bands like Tower of Power and Dirty Dozen Brass Band, Children of the Horn places the horn section on the front line.  The musicians in the band are experienced performers and music educatiors at NC State University and Duke University.
Children of the Horn is a North Carolina Arts Council Touring Artist for 2008-2010.  Past NC festival engagements include Centerfest, Taste of Durham, Shakori Hills Festival, Lazy Daze, Peak Fest, Beaufort Music Festival, Carrboro Music Festival, Holly Sp[rings Jazz Daze,African Heritage Festival, and Matthews Alive.
---
Wayne Leechford is a multi-instrumental musician and music educator. He 
received his Bachelor and Master of Music degrees in saxophone performance from the NC School of the Arts. As a student, he performed for President Bill Clinton at the White House. He has performed with The Four Tops, The Temptations, The Coasters, Clay Aiken, Regis Philbin, Susan Lucci, Lorna Luft, Frankie Valli & the Four Seasons, Dr. Lonnie Smith, The Cab Calloway Orchestra, and the New Century Saxophone Quartet. In addition, he has performed for many national Broadway tours. Locally, he has performed with NC Wind Orchestra, Raleigh Symphony, NC Jazz Repertory Orchestra, Orquesta GarDel, and Tar River Orchestra.  He teaches saxophone at NC State University.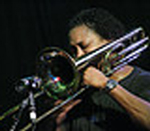 Robo Jones picked up the trombone at age 14 and has never put it down. In his hometown of Mocksville, NC, he grew up playing Gospel music with his family. Since that time, he has played in several bands and has had the opportunity to perform with jazz legends such as Slide Hampton, David Murray, and Al Grey. He shared the stage with the Ramones, Silk, and Billy Joel as a member of the band "Sex Police". He co-wrote music that was featured in two episodes of the TV series "G vs. E" and he can be seen in the VH1 documentary on the "Squirrel Nut Zippers."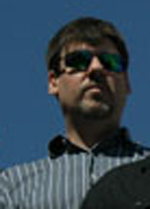 Drew Lile has performed on guitar, banjo, and mandolin with the North Carolina Symphony, NC Theater, NC Jazz Repertory Orchestra, national Broadway tours, and artists such as Luciano Pavarotti, The Pointer Sisters, Little Anthony and the Imperials, Patti Page, and Clark Terry. He appeared in the CBS Hallmark Hall of Fame movie "The Summer of Ben Tyler" starring James Woods. He teaches at Duke University.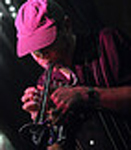 Bryan McCune, cornet/trumpet/electronics, has performed in jazz groups for over 30 years, starting in his home state of Nebraska, followed by Chapel Hill, Washington, D.C., and Baltimore, then back to the Triangle where he currently resides in Raleigh. He has also composed for and performed with a number of choreographers and modern dance companies in the Washington-Baltimore and Triangle areas, including shows at such venues as the Kennedy Center and Dance Place in D.C. and Carolina and Fletcher Theaters in the Triangle. He has produced several CDs in recent years, and performed on recordings by other artists. Todd Protor started playing drums at the age of twelve. Since then, his career has taken him around the country from Massachusetts to Florida to California and everywhere in-between. While attending East Carolina University, he had the opportunity to play with some of the world's finest Jazz musicians including Mulgrew Miller, Christian McBride, Grady Tate, and Maceo Parker. He has an active freelance career performing and recording various styles of music with artists throughout the Southeast.
John Simonetti, tubist/bassist, graduated high school at the North Carolina School of the Arts and then spent six years freelancing in New York City. While in NYC, John recorded with the Lew Picardi Big Band, the Nassau Pops Symphony Orchestra, and the Bootleg Remedy Dixielanders. Back home, John performs with North Carolina Theatre, national Broadway tours, Gregg Gelb Swing Band,Stephen Anderson, among others. He has performed with artists such as Eddie Henderson, Tom Harrell, Freddie Cole, Curtis Fuller,Marcus Roberts, Marlena Shaw, Joanne Brackeen, Lionel Hampton, Cyrus Chestnut, John Faddis, Terrence Blanchard, T. S. Monk,Russell Malone, Bucky Pizzerelli, and John Hicks.
---
Accolades
"Children of the Horn provided a very entertaining set that everyone enjoyed.  I was impressed by their musicianship and professional presentation.  The crowd in attendance was very responsive to their music.  I would recommend Children of the Horn for any live music event and will definitely hire them again when opportunity presents itself."
                                                                    -The Ujima Group
"Raleigh's Children of the Horn hit the funk heavy … they do tasty soul jazz an world music too."
                                                                    -Independent Weekly, March 2006