Premier North Carolina Entertainment Agency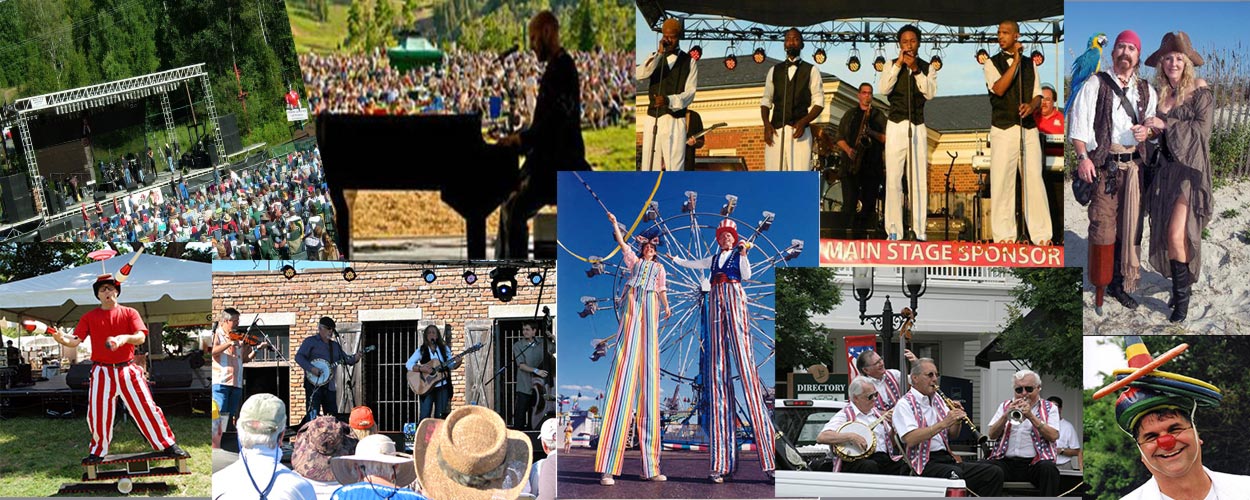 Shows and Entertainment
Created for Festivals, Fairs & Special Events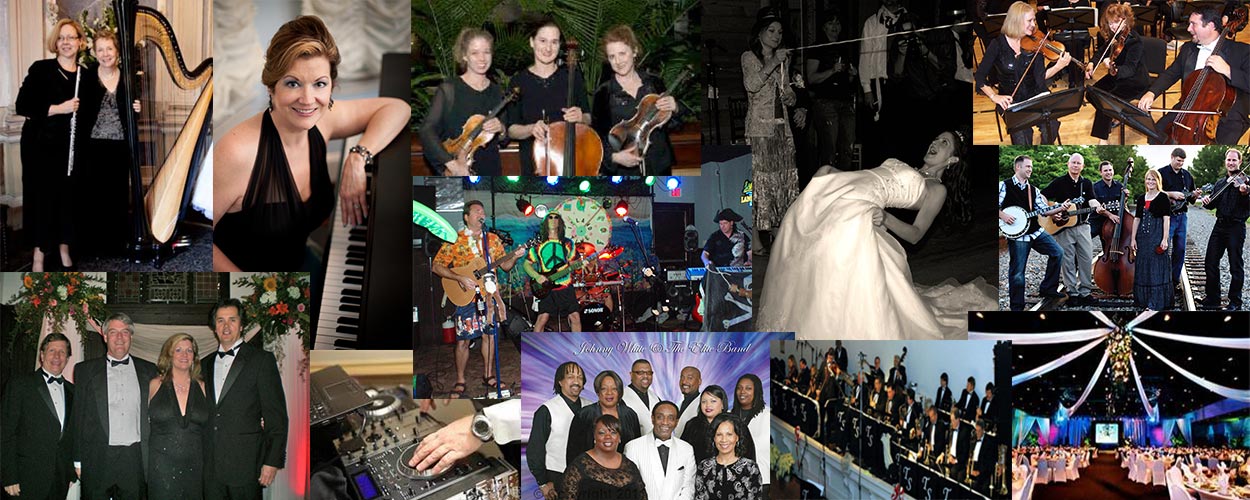 DJ's/Bands/Musicians/Vocalists for 
Wedding Ceremonies/Receptions, 
Parties and Special Events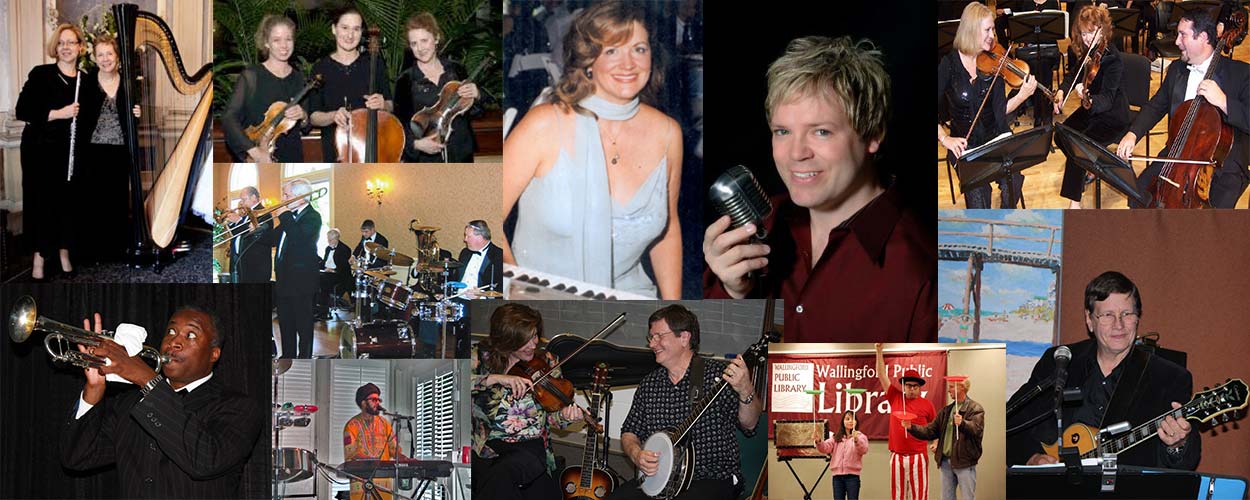 Entertainment Created for
Assisted Living and Retirement Communities
Entertainment Designed for
Assisted Living and Retirement Communities

SeaSound Entertainment Agency offers Higher Quality Entertainment at Lower Cost: Entertainers Booking, Musicians Booking, Live Bands For Hire, Wedding Singers, DJ's For Hire
SeaSound Entertainment Agency, the premier entertainment agency in North Carolina and South Carolina, provides you with higher quality entertainers at a lower cost by matching your event date with entertainers who have open performing dates they are willing to fill for a lower fee.  Avoid high commissions from big city agencies with higher operating costs.  Scroll down to bottom of page for Raleigh, Durham, Chapel Hill, North Carolina, South Carolina bands, musicians, vocalists and entertainers; click on the following images for video of  touring national and international entertainers, musicians, bands:
2

World band that plays Irish Pub Songs, Greek Dance Music, Romantic Italian Love Songs, German Music, Lively Latin Music and French Cafe tunes.

9

Tribute to the timeless music of the 50's and 60's by talented musicians who lived through the Good Times.

2

Dynamic party band that plays Beach, Country, Jazz, Bluegrass, Swing, Big Band, Dance and Party Music with five vocalists and four piece backup band that sounds like Earth, Wind & Fire, Kool & the Gang, and Whitney Houston.

4

High energy band will get your party movin' and groovin' with original music and covers of Carrie Underwood, Lady Gaga, Kelly Clarkson and others.

5

Popular Jazz and classic R&B band with a soft musical style ideal for wedding receptions, banquets, private parties and dinner dances.

3

One of the premier Irish Bands on the East Coast that plays traditional Irish songs as well as songs from their six albums.

1

Americana-Folk Rock with a twist describes the music of this acoustic band that plays Americana, Folk Rock and Standards.

3

Alex Weiss & A Different Drum take students on a musical journey that bridges Africa and the Americas through song, dance and stories by weaving the history and cultures that connect these continents into a multi-cultural quilt of entertaining, educational performances.  From the driving Rhythms of Mali through the beautiful Sambas of Brazil to the vibrant Salsa of Cuba and the playful Cumbia of Columbia, students will learn about the musical instruments that create this cultural music and the manner in which certain rhythms from these countries have influenced contemporary music.

6

Amerimusicana navigates students on journeys through Music History--from 3000 B.C. through modern day Country and Rock 'n Roll. The musical guides on these journeys are two vivacious and entertaining musical educators.

6

Variety dance band plays popular blend of Rock & Roll, Top 40, Classic Rock, Jazz, Contemporary, Pop, Latin, R&B, Swing, Country, Bluegrass, Classical, Ballroom Dance, and Ethnic music, embellished with your favorite requests.

10

A vocalist, songwriter, steel drum soloist and actor, Mickey is an exciting, energetic and multi-talented entertainer who has been called "the fasted steel drum soloist on earth"

3

Specializing in weddings as well as large corporate and social events, Cobalt Blue comprises five talented musicians: three lead vocalists, two guitars, keyboard, clarinet, sax, violin, and percussion. Cobalt Blue plays music from the following genres: Jazz, Rock, R&B, Oldies, Reggae, Top 40, Swing, Soul, Country, Latin and Pop.

4

Consisting of trumpet, trombone, clarinet, tuba, banjo and percussion, RAZZaMaJAZZ has been entertaining North Carolina audiences for more than 20 years.  They play a variety of musical styles, including Jazz, Dixieland and Swing. By interchanging instruments, this band can transform itself on stage from a Beach Band into a Bluegrass or Country music band.

2

Ranging in size from 7 to 15 musicians depending upon budget, Ovations is the premier big band of the Southeast. Led by veteran trumpet player Don Edwards, Ovations performs all the Standards and Swing tunes from the Big Band era along with a touch of more contemporary music as needed for dancing. Ovations is at home performing for engagements ranging from receptions and dances to national conventions and festivals.

5

The Todd Sullivan Orchestra, based in New York City, consists of 18 exceptional musicians frequently retained to create movie soundtracks, CD backing tracks and other high-end studio projects. For those into more variety than just the standard swing, The Todd Sullivan Orchestra is the only American Big Band to perform the entire array of Latin music for strict tempo dancing, and has performed three seasons of dance events for the Fred Astaire Dance Studio franchise.

5

Featuring 5 string banjo, fiddle, acoustic guitar, electric bass and tight vocal harmonies, String Theory plays traditional Bluegrass and Newgrass with influences by Bill Monroe, Doc Watson, Tony Rice, David Grisman, Ricky Skaggs, Seldom Scene, and Allison Krauss.

0

A professional brass ensemble composed of musicians from the Raleigh, North Carolina area, North Carolina Brass is available to perform as a quartet or quintet with a musical library of over 250 musical selections from Classical to Jazz, Pop, and Show Tunes.

1

Dr. Wienand specializes in providing harp music for weddings, bringing expertise, elegance and musical flow to the wedding ceremony. She will provide a customized musical program for a ceremony, reception, rehearsal dinner or other wedding related event in a style of your choice--classical, jazz, pop, Irish Celtic.

0

Anita has over 25 years' experience playing for weddings and receptions. She travels throughout North and South Carolina, Virginia and Tennessee and offers a repertoire of classical, sacred, contemporary, and celtic music. She also performs with other classically-trained musicians playing flute, violin, cello, and trumpet. Principal harpist with the North Carolina Symphony, she has also appeared as soloist with the North Carolina Symphony, Durham Symphony, Chamber Orchestra of the Triangle, Hendersonville Symphony and the South Carolina Chamber Orchestra.

5

Recording Artist, writer and composer Mickey Mills is a featured performer in a number of documentaries explaining the history, playing techniques and musical applications of the steel drums. A native of Trinidad and Tobago, Mickey has performed concerts with the steel drums nationally and internationally.  In addition to his appearances on stage with Mick Jagger, Jimmy Buffet and Kenny Chesney, he performed in the off-Broadway show, The House of Flowers, and in the television show, Matlock.

He is also an approved artist in the Artists in the Schools programs for Wake, Orange and Durham Counties.

12

From the sultry strains of Classic Jazz to Broadway and the Pop Music of the 60's and 70's, Patrice impresses audiences with her rich, melodic voice and vivacious personality.  She is also available as a wedding singer and corporate event vocalist who can accompany herself on the piano or organ.
During her thirty years on stage, she has performed in professional theatre, with her own dance band, and recently recorded her CD, At Last (with The Todd Sullivan Orchestra of New York City and a "dream team" of three arrangers, including 10-time Emmy award-winning arranger/composer, Lanny Meyers.

8

A  finalist on NBC's Sing-Off, these Dukes of Doo-Wop impressed fans of all ages across the nation with their energy and consistent harmonies. For the last 30 years, North Shore has entertained and excited thousands of listeners, adding an experienced blend of harmony, rhythm and tempo to songs from the 40's right up through today.  This special art of delivering music without instrumental accompaniment is what North Shore is all about.  The award-winning group offers a continuously fresh repertoire of hundreds of popular hits that cover the last five decades.

4

Becky Hobbs, the songwriter for songs recorded by Alabama, Conway Twitty, Glenn Campbell and George Jones, performs with country legends Leona Williams and Ava Barber In the Royal Ladies of Country Music Show.  Having recently completed a three-year engagement for their show, The Grand Ladies Of Country, at the God & Country Theatre in Branson, Missouri, Leona Williams and Ava Barber are bringing the music of that show to communities throughout the country.

6

In an era when expertise and originality are often overlooked in lieu of fleeting flash and flare, Gladius defines innovation as a composer and mastery as an instrumentalist.  He also defines determination and old-fashioned grit by devoting 6 years of his life to overcoming a crippling case of nerve damage in both hands to achieve a level of dexterity matched by few guitarists.  Inspired by the great classical composers (Vivaldi), Spanish flamenco legends (Paco De Lucia), and melodic metal masters (Marty Friedman and Jason Becker), Gladius is perpetually pushing the boundaries of his Baroque-Ethnic-Metal fusion.

8

Delta Reign, from the Mobile River Delta region of the Gulf Coast, is bringing a fresh new sound to Bluegrass by incorporating Swing rhythms, Blues and a dash of Jazz.
Calm Before The Storm is Delta Reign's debut album on the Mountain Fever Records label.  With a new album, favorable reviews in Bluegrass Unlimited and Bluegrass Music Profiles magazines, other press and publications, and radio airplay, the band is poised to make its mark on the Bluegrass genre.

5

Composed of experienced performers and music educators from NC State University and Duke University, Children of the Horn is an instrumental ensemble that has created a unique sound by combining influences from Soul, Jazz, Rhythm and Blues and World music.

With a front-line of horns backed by a rhythm section, Children of the Horn takes students on a kaleidoscopic journey through original compositions that range from super-syncopated Funk and Latin to swaggering New Orleans Second Line to classic Motown-inspired grooves.

5

Flow Circus combines the skills and experiences of educator and writer Dawn Daria and nationally performing artist Paul Miller to create engaging and dynamic programs.  At the core of all of our programs is the belief that learning is and always should be fun.  Playfulness and spectacle ensure that students and staff will be talking about Flow Circus long after the visit.  Performer Paul Miller of Flow Circus explores the world of science and skill toys where things fall, balance, and spin.  He will leave students (and teachers) with an urge to pick up and play with the world around them to discover the mysterious forces of the invisible, physical world.

4

Bringing Opera to Life for the Young Student: Journey through music history with an entertaining artist who introduces the history of Opera, performs excerpts from famous operas, teaches Italian, and describes the evolution of opera music into Musical Theater, Broadway Shows, Movies and even Television Cartoons. Throughout this "Operation", students and teachers will learn proper use of the voice, breathing techniques, projection and dramatic gestures.  Students will be selected to "perform" in an improvised operatic scene playing the roles of protagonist, antagonist and chorus. Students will be able to identify elements of modern opera musicals: Phantom of the Opera, Les Miserables and rock operas.

3

Multi-talented and versatile, Patrice Kaluza has been entertaining audiences around the country for over 25 years. Now, she brings her Hyacinth Macaw, Tiki, an endangered and rare bird species from South America, to schools to explain the importance of protecting endangered animals such as the Hyacinth Macaw and to show the unusual intelligence of this tame and beautiful creature.  "Ms. Patrice" has been researching and studying parrots and birds for over 20 years (Ornithology). She has trained her parrot, Tiki, using a very natural approach--he learns by living in a family.  Born in captivity and surrounded only by humans, Tiki has learned to bond only with humans through a process called "imprinting".

5

InterACTive Theater is designed specifically for celebrations, festivals, street fairs and first nights.  During these events, Jef weaves through the crowd sharing his wacky brand of roving artistry which includes mime, juggling, mask work and variety arts.  His roving work translates wonderfully to short (30 minute) stage sets which require minimal set up and fit perfectly into a festival format. He routinely performs as an opening act or entr'acte either onstage as a curtain raiser, or in front of the stage while a changeover occurs on the stage itself.

8

Different Drum is a versatile Afro/Latin ensemble that plays world music, specializing in South African Township, Andean Melodies, Brazilian Sambas, Salsa, Calypso and Cumbia. Having performed at numerous festivals and events throughout the Carolinas, Different Drum typically devotes equal time during their performances to Jazz, Eclectic Music and Original Songs.

1

Using the latest in live sound technology, transit is able to harness vocals and transform them into a high impact show that some will scarcely believe is created with only 5 voices.

0

PushPlay performs within a 500 mile radius of Raleigh, NC.  They specialize in corporate, private and wedding events!